Top 3 Xenon H7 Upgrade Bulbs
H7 Xenon Upgrade Bulbs
Replacement H7 bulbs are not 'true' Xenon HID bulbs, but the upgraded bulbs use a small amount of Xenon gas and a traditional filament to produce a light that is brighter and whiter than standard halogen bulbs.
We have compiled a short list on 5 of our best selling H7 Xenon upgrade bulbs and here we explain exactly why they are the best choice for your HID replacements.
H7 OSRAM Night Breaker Laser +150% Next Generation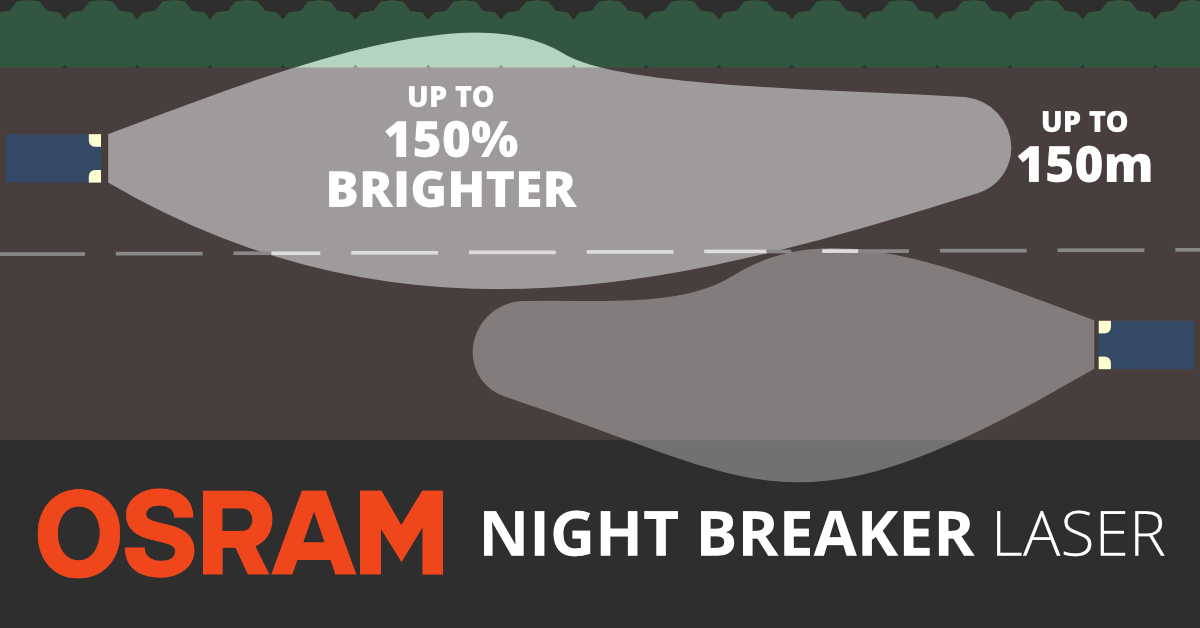 The OSRAM Night Breaker Laser headlight bulbs are one of the most powerful H7 bulb upgrades from Osram to date. Osram have pushed the boundaries and developed the Unlimited bulb which produces up to 150% more light on the road compared to a standard Osram bulb. This increase in light will help to significantly improve your night time vision and create a safer driving experience.
This product set comes as a pair which makes the H7 OSRAM Night Breaker Laser +150% Next Generation a more affordable and convenient option allowing you to rest easy knowing that you will have matching H7 Halogen bulbs.
What Makes The H7 OSRAM Night Breaker Laser Bulbs Awesome?
Up to 150% more light on the road a big improvement from the Night Breaker plus bulbs. More light will help to illuminate up to 50-75 metres on the road therefore improving safety.
Up to 150 metres light beam improving visibility and allowing hazards along the road ahead to be seen sooner giving you more time to react
20% whiter light reducing eye strain and making night driving more comfortable and safer for you and other road users.
Up to 50% improved lifetime over other Osram standard bulbs
Reviews For The H7 OSRAM Night Breaker Laser
It works as described on the advert, very bright & provides extended visibility at night.
Geoff
---
H7 Philips WhiteVision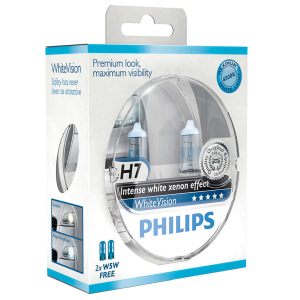 The H7 Philips WhiteVision bulbs are a revolutionary product, these H7 Headlight Bulbs provide a 40% whiter colour than standard bulbs, giving you the ultimate XENON look.
These upgrade bulbs allow the driver to be able to see further with 60% beam performance, improving yours and other road users safety.
Want your Sidelights to match your H7 headlights? When you buy these bulbs you will receive a free pair of 501 W5W Sidelights to match your XENON look headlights.
What Makes The H7 Philips WhiteVision Bulbs Awesome?
Turn Night into Daylight with 120% more light
Improves visibility and reduces tiredness
More light means more time to react to hazards
2 Year Guarantee!, Direct replacement, no modifications needed.
Free set of sidelights with every purchase
Reviews For The H7 Philips WhiteVision Bulbs
Fantastic product, at a great price.
And an excellent service from HIDs4U. First time purchase, but will continue to buy from them from now on.
Stacey
---
H7 Twenty20 Daylight120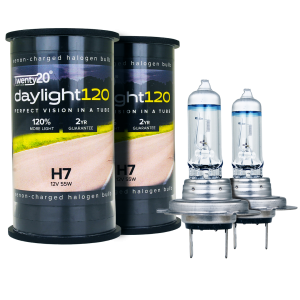 They might as well have filled these H7 Twenty20 bulbs directly from the Sun! when you pop these in it is like night and…well…Daylight. Illuminating the road ahead with 120% more light than the candles you get from factory fitted bulbs. The H7 Twenty20 Daylight120 +120% will keep you and your important passengers safer than ever before.
An even spread of light projects a crisp beam pattern so the extra brightness won't dazzle oncoming drivers making sure you are seen without distracting other drivers. This advanced type of light will help reduce eye strain and therefore tiredness presenting you with a more comfortable and ultimately safer journey.
What Makes The H7 Twenty20 Daylight120 Bulbs Awesome?
Turn Night into Daylight with 120% more light
Improves visibility and reduces tiredness
More light means more time to react to hazards
2 Year Guarantee!, Direct replacement, no modifications needed.
Free set of sidelights with every purchase